Pixcavator is a light-weight (336K here) image explorer. Below I list new features and other modifications.
RGB channel-by-channel analysis. It's an experimental feature, so that you can only use the red or the green for now. This is important for some applications such as microscopy. Different features are sometimes better revealed in different channels. Below: original, analysis in red channel, analysis in green channel.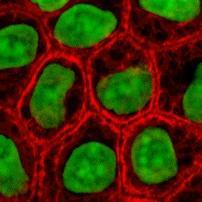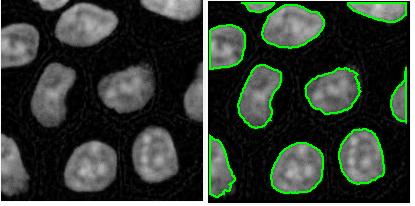 Analysis summary to include some statistics. The output table contains only the raw data about each object. Of course, if you save the data to Excel, you can get anything from it: average of all columns, histograms, etc. We thought that it would be nice to be able to preview some data: average values of size and contrast. There will be more.
Data displayed based on the location of the mouse. That's another very convenient feature. You used to have to mark/unmark object in the image and then find the row in the table to see the objects's measurements. That's not fun if the table is a hundred rows long. Now you let the mouse hover over the object of your interest and the data from the table is displayed right beneath the image.

Coloring objects. This feature was previewed a couple of weeks ago.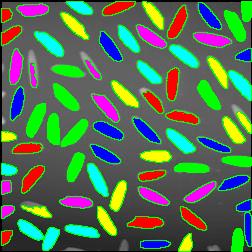 Hiding contours. To see the original image you used to have to go to the Analysis tab. Now you can flick it on and off to see what is hiding under the contours. The marking/unmarking of objects is unaffected.
Some sliders removed. The sliders for roundness and saliency haven't been used a lot as far as I know. The complexity they add did not seem worthwhile. It does not mean that there will be always just the two sliders. The development of new characteristics for the sliders is under way. They will only be added if they make a significant improvement over what we have now. At least one new slider is coming in the next release.
Shrink slider modified. The shrink slider used to give you the shrink factor in terms of the area of the image. Now if you set itat 2, both of the dimensions will be cut in half while the area (and the processing time) will be cut by 4. This seems simpler. It is also preset to cut the processing time to 10 seconds or less. It seems like 99% of the time the resolution is excessive relative to the features being sought.