cellAnalyst 1.0 is out!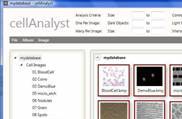 It is well known that the digital microscope has led to an explosion of the number of images that the researcher has to deal with. On the one hand, this opens opportunities of gathering enormous amounts of data. On the other hand, tools for automatic image analysis and data management become a necessity.
cellAnalyst is such a tool. It is intended to help the researcher to analyze his microscopy images and manage the output data.
It is especially suitable for analysis of cell images, cell counting and classification. In each image, cell cells are detected, captured, and measured. This data is presented as a table that lists all cells along with their characteristics. Each such table is recorded as an entry in a searchable database. Image processing and image management tools are also provided.
More features are planned for the future with the goal of a complete toolbox for high content analysis (HCA) and high content screening (HCS). A web based application is also under development. You can download cellAnalyst at http://cellAnalyst.net. The software comes with a complete user's guide and a tutorial. Feedback will be appreciated.
After this formal introduction, it is interesting to observe that cellAnalyst can also be seen as a visual search engine. Indeed, the search is based entirely on the data extracted from images instead of text, tags, etc.