I am being sarcastic here, of course. I own a Roomba and I am aware that its navigation is based on bumping into walls and furniture. So, it doesn't use computer vision in the usual sense of the word. The point here is that computer vision (and AI in general) is a field which is about to change the world, always. But so far it hasn't. Compare that to Roomba. It's quite dumb but it does its job and now you can have a robot in our house for the first time ever! So I'd say that Roomba has changed the world, a bit.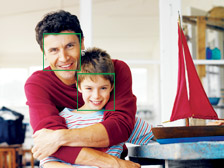 A candidate for a commercial success of the "real" computer vision may be face detection. It is now installed on many cameras like Canon. However, for the user it's just a minor feature. Unlike Roomba. My guess is that a success of this magnitude is more likely to come from a vision system that is just a notch more complex than Roomba's.
BTW, the Roomba does have vision however rudimentary. It does not detect vertical changes, so it is fair to say that its vision is 1-dimensional. Taking time into account it's 2-dimensional. Another 1D vision system is radar.