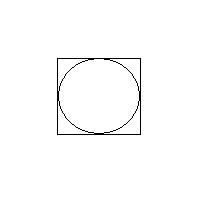 Recall that in the last post we observed that, since a curve in a digital image is represented as sequences of points, it is natural to think of its length as the total sum of distances between consecutive points. However, with this approach the length of a diagonally oriented segment will be overestimated by 40%.
In the case of digital images, to compute the perimeter of an object we simply count the number of vertical and horizontal edges. Here is one interesting consequence. The perimeters of a square and the inscribed circle are the same!
Here is a more practical example. Suppose we want to classify objects in an image, like the one on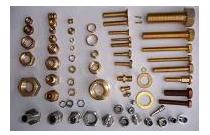 the right. Suppose we have detected and captured these objects and now all we want to do is to tell nuts from bolts. Let's adopt a "dumb" approach and try to use the simplest method available. Then some of these objects can be classified based on size only. However, there are some bolts and nuts of about the same size and we have to look at their shapes. That does not work out as you'd expect.
The "roundness", area/(perimeter squared), will be lower for elongated objects, like bolts. This works perfectly well in the continuous domain but in the digital domain it is possible to think of very different shapes with both area and perimeters exactly same. Take a diagonally oriented square with side a. Then its area is a*a and it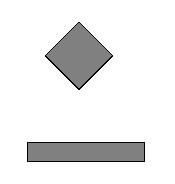 s (digital) perimeter is 4*√2*a. Now, a horizontally oriented rectangle (√2+1)*a by (√2-1)*a will have the same measurements. The proportions of this rectangle are about 1-to-5. It's a bolt that looks like a nut…
In the next post I will briefly discuss a paper on this subject.