This site is devoted to mathematics and its applications. Created and run by Peter Saveliev.
Pixcavator Student Edition
From Intelligent Perception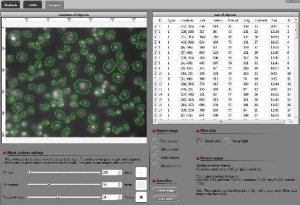 Pixcavator Student Edition is free image analysis software for science students. Pixcavator helps researchers extract content from their digital images. Pixcavator captures objects in the image by means of outlines and produces an Excel spreadsheet with those objects locations and measurements.
A student can also use this software as an experimental tool to explore the concepts presented in the Computer Vision and Math site. A good place to start is Examples of image analysis.
Download Pixcavator Student Edition here.
The Student Edition is free but has the following limitations in comparison to the Standard Edition:
The image is shrunk 2x by default.
There is a limit on the size of the analyzed image you can save.
There is a limit on the size of the Excel spreadsheet you can save.
"Analyzed with Pixcavator" is written on the saved image.
Image processing/manipulation tools are unavailable.
The user's guide isn't supplied with the software.
Report generation is unavailable.
No support is provided.