Examples of image analysis
From Intelligent Perception
Below you see a list of examples of how Pixcavator has been used to analyze images in an enormous variety of fields.
Note that almost none of the analysis examples require prior image enhancement. While looking at the analyzed images, observe that the analysis settings are appended to the name of the original image (for example, cells_100_20.bmp is the image that displays the results of the analysis of cells.bmp with the settings: size = 100, contrast = 20). This way you can easily reproduce the results on your own. There are also screenshots that show the settings. For more see Pixcavator help.
Please feel free to use Pixcavator's screenshots in presentations, publications, reports, etc. Many users have done this previously and we appreciate that they give us the credit. For the legal details see Pixcavator's user's license and Terms and conditions.
See also this point-by-point comparison of Pixcavator and ImageJ.
If you would like your own images analyzed in this fashion, consider our image analysis consultation. If you have a lot of images and you know what you want to get from them, try our pay-per-image analysis service.
1 Is Pixcavator for you?
There are several ways to approach this question.
First, you can determine if your images may be good candidates for analysis with Pixcavator by reading Images appropriate for analysis.
Second, you can consider these (overlapping) categories of examples classified according to the image analysis tasks:
Third, see these categories of examples classified according to the field of application:
You can also browse the complete list of examples in the next section or scan the images on the right (if you find one of them interesting, click on the image and then go to the bottom of the page to "The following pages link to this file").
Consider also: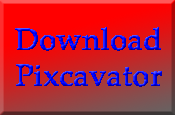 2 Complete list of examples
Favorites are in bold.
Analysis of sample images (synthetic images and standard images)
Flow-through pore diameters (paper)
Control of electron transport (paper)
Inspecting semiconductor wafers (machine vision)
Cell counting (measuring etc)
Blood vessels (not very successful)
Character recognition (aka OCR)
Mosaic making (fun)
Optical illusions (fun)
Microarray analysis (HTC)
Drusen contours (ophthalmology)
Measuring the volume of prostate cancer tumor (slice by slice)
Measuring holes in a gasket (calibration)
MRI (under construction)
Solar flares (astronomy)
Cellular structures (cell counting)
Iceberg is born (satellite imaging)
Crystallites (counting particles)
Thermal imaging (night vision)
Wall of a blood vessel (measuring thickness)
Measuring chromosomes (not quite successful)
High throughput screening (paper)
Melanoma (ABCD analysis)
Counting and measuring lots (real estate)
Corneas of rats (paper)
Evaluation of quality of seeds (paper)
Nanotechnology (counting particles)
Corneal endothelial cells of the human eye (hexagonal cells)
Transversal section of a root (measuring)